ERP for Trading Companies in UAE
ERP for Trading Companies in UAE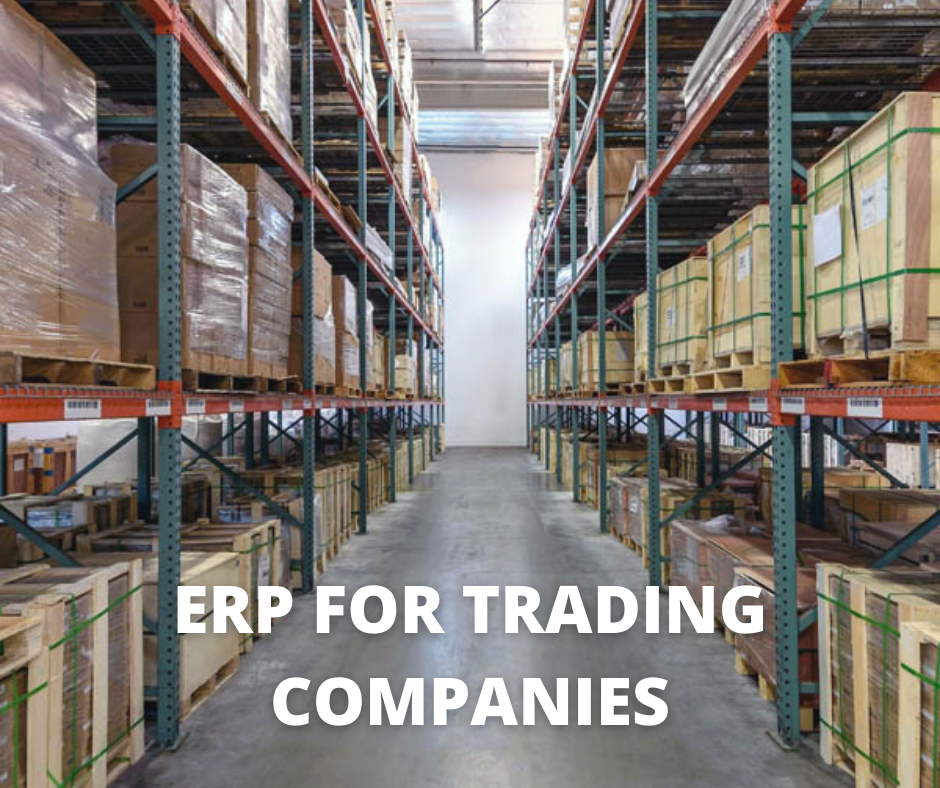 Why is ERP required for Trading Companies?
A typical trading company buys products at the best price, stores them and sells them to customers to make a profit. It may look very simple if you read it but there are many things behind the scenes to run a successful trading business.
Usually, a trading company faces many challenges in the day to day operations. It has to manage the stock, deal with suppliers, and deliver to customers within deadline with competitive pricing. Buying at the best price, keeping the right stock levels, providing salespeople with the right information, and providing the best pricing to customers are some of the minimal requirements for a successful trading company.
Benefits of ERP for Trading Companies
With so much competition in the market, having the right business software to manage the business is crucial. An ERP software gives power to the business to effectively manage various business functions from one application.
Hence, I have listed below the benefits an ERP software brings for a Trading company.
Inventory Management: You can manage your stock location wise, bin wise, or batch wise. Also, your employee will have real-time information about the availability for the stock and its location.
Supplier Price Analysis: Compare the prices from multiple suppliers before placing a purchase order. This will help your business in increasing the profitability with the increase in profit or the sales volume due to the competitive price to customers.
Complete supply chain management: You can manage the complete supply chain with an ERP system starting from the supplier to customers, all from one application.
eMirsal: With the integration of eMirsal into the ERP system, it becomes easy if your business is dealing in exports and imports in Dubai.
Credit Limit Control: Monitor the customers who have availed more than their limits set and take necessary steps to control.
Approval Levels: Set multiple approval levels depending on the transaction type or value to have better control and without the need of sending emails or prints.
Stock based on Previous Sales: Easily create sales or product requirement projection based on the sales history.
ASN Integration: Plan your customer order deliveries effectively by tracking the upcoming shipments to be received using ASN integration.
Analyze Sales Performance: Easily measure the performance of salespeople by assigning targets, tracking their orders and monitoring the profitability of each salesperson.
Bar Code/QR Code Integration: Enable barcodes for your products to easily track a products location or details while preparing orders.
Expiry date wise tracking: You can also track the products with expiry dates. This will help in reducing the stock wastage, moving the products faster which are expiring soon or disposing off the products which are already expired.
Category wise Pricing: Set pricing depending on the category of customers or salespeople. This will help in providing special pricing for certain customers who have been loyal to your business.
Discount Levels and Schemes: Offer various schemes and discounts to your customers to increase the sales value. You can set easy automated rules depending on the order value or quantity.
PDC Management: Manage all the PDC cheques which helps in easy tracking of the upcoming cheques.
Cash Flow management: With the efficient management of receivables and payables, it helps in effective improvement of cash flow.
Advanced Analytics: Get advanced BI reports to check the performance at product level, salesperson level, category level etc.
Facts ERP has a custom built solution for Trading companies in UAE. Get in touch with us if you have any questions.